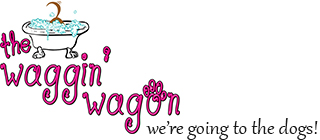 please note this business phone does not accept text messages.
if you prefer to text, please fill out our contact form
complete grooming services
the waggin' wagon offers a comprehensive list of grooming services to make sure that your four-legged friend is clean, happy, and healthy:
our services start at just $70, and we always come to your home. we'll park right outside your house, load up your dog, and get him groomed and back to you in no time. our pricing is based on size and condition of your dog's coat. phone pricing quotes are subject to change if we determine upon arrival the condition is different than discussed.
contact us for all of your grooming needs, from simple dog bathing services to a full cut, blow dry, and brush out for your dog.
what to expect from a grooming
when you work with the waggin' wagon, you are working with experienced professionals who love and care for your dogs. we want them to happy, healthy, and well cared for, just like you do. in order to ensure the safety and comfort of your dog and our groomers, we ask that all of our customers provide us with the following information:
proof of vaccination: all of our canine customers must be up to date on all of their vaccinations & have a current rabies vaccination. we ask dog owners to provide proof of these vaccinations before we begin grooming. Please note that we do not require bordetella vaccination.
information on medical conditions: if your dog has any medical issues, health problems, or is experiencing any kind of pain, please tell us. we want to ensure that we can care for your beloved pet in the best way possible, and this information is necessary to ensure we don't compound any medical issues.
behavioral information: we understand that all dogs have different personalities and deal with stressful situations in different ways. being groomed by strangers can be stressful for some dogs, so if your dog has a tendency to bite, please tell us. we never crate a dog, but may muzzle dogs at our discretion.
if we believe there is a medical- or safety-related reason not to groom your dog, we reserve the right to not provide service. we want your dog's experience with us to be as stress-free as possible, so please do not withhold any information about your dog.
serving the following areas
smyrna

vinings

buckhead

brookhaven

sandy springs

n. atlanta

dunwoody